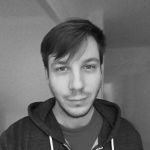 I have been creating software for more than fifteen years in a wide variety of stacks, languages and platforms. I currently work at The Cloakroom in Amsterdam, where I enjoy the challenge of an ambitious project, and the possibility to teach and learn new things every day in a great team.
I advocate Software Craftsmanship and the Agile Manifesto, this has been a great motivation and helps me to continuously reinvent myself as a better developer that makes better quality software.
Contact me
RECRUITERS, AGENCIES, etc: I am not currently interested in new positions.
For other matters mail me at istepaniuk@ Google's well known free email service.
You may also want to check out my profiles on these sites:
Also on Stack Overflow
Or just look me up on Google